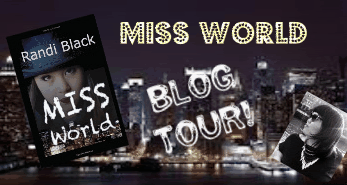 Welcome to the last but certainly not least stop on the Miss World Blog Tour!
Today I have for you a guest post from Ms. Randi Black herself talking about sex health and education! We also have for you a signed copy giveaway and an ipod giveaway! I would take this advantage now and enter before its too late! Tomorrow I will also have my own review of Miss World. :) I already read it and I must say it is a captivating novel I will never forget. Everyone please thank Randi for this wonderful piece of literature and information towards something everyone secretly wants to know about. *wink wink* ;)
~Randi Black Guest Post~
When I got my period at eleven, my mom gave me "the talk." Basically, I was told that if I had sex before marriage, I would be a disgrace to my family and no good boy would ever want to marry me. Even if I denied it, our ancestors would see and tell them. To scare me even more, I was given the anecdote about that Chinese girl who lost her virginity to a suave, romantic Frenchman, only to open his letter on the airplane and find out he gave her AIDS. There was that story about the Chinese girl who snuck behind her parents' back to have sex with a boy, and she ended up naked in a ditch with her slashed from ear to ear, and cut in half at the waist (hey, mom, Elizabeth Short wasn't Chinese, but I get your point). But none of it was going to matter, because I was too fat and ugly, and no one wanted to have sex with me, anyway.
It was all I was told. If I even dared to ask about anything else, my mom would've jumped to conclusions, and/or talked down to me. So what did I do?
I went to the local library and checked Girls and Sex and A Young Woman's Guide to Sex behind my parents' backs. Every time we visited my Evil Aunt Tai in Simi Valley, I'd go to the second floor den and take furtive reads of Everything You Wanted to Know About Sex * But Were Afraid to Ask. (I also discovered Erica Jong in my Evil Aunt Tai's questionable selection of books, but we'll save that for another day). What I read about sex in books sounded drastically different than what my mom told me, and I began to wonder why she told me those things.
Now that I'm 34, I realize my mom was only trying to protect me, and she didn't want me to end up as one of those teen moms we always saw at the West Covina Mall. I'm grateful that she cared about me, but I'm also glad I had the sense to find more information elsewhere. 
It's perfectly natural to question what you're being told. It doesn't mean that you're a bad person ; it just means you're curious and want to be informed. No matter what you ultimately choose to do, you always have the right to accurate, unbiased information about sexual health and education. You deserve to know how things really work (or don't work). Here are some websites that can help:
Scarleteen's been around for about 14 years, and I think it's one of the best, most comprehensive online resources for sexual education. It's geared towards all genders and sexual orientations, and its forum is a safe, supportive space for you to discuss sexuality and relationships. There's also a search tool for your nearest health center that serves teens and young adults, and opportunities to submit pieces about your own personal experiences to be published on their website.
The Center for Young Womens' Health was founded by license professionals in 1988, and aims to provide teenage girls and young women with carefully researched health information. There's information on birth control and STDs, but also nutrition, fitness, and emotional health. There's also a link for guys. 
Sex Etc. is a fun, informative website that is well-designed and high on the usability factor, as you can do a search or browse by topic. There's also a forum, videos, comics, and quizzes. Best of all, there's a section on individual state laws, so you can know your rights.
What I like the most about the Birds & Bees Project is that they inform you of your options and rights. Yes, I'm talking about your rights to confidential STI testing, and your rights to access birth control. And yes, I am talking about your rights to a safe abortion or adoption. The Project is based in Minnesota, but they give links to other states' laws.
An informative site about birth control options, and how to obtain them. You can also sign up for daily, weekly, or monthly reminders by text or e-mail.
Run by a staff of trained volunteers, SFSI gives "free, confidential, accurate, non-judgmental information about sex." You can ask them sex-related questions by e-mail or phone, from Mondays to Fridays.
Planned Parenthood's website is a great online resource for sexual health and education. You can browse health topics from A-Z, and also find your nearest health center location.
A collaboration between MTV and the Kaiser Family Foundation, It's Your Sex Life is a great resource for sexual health information. My personal favorite page is 'What Work/What Doesn't', where you can click on pictures of various birth control methods and learn more about them. You can also compare birth control options side by side. There's also a search option for your local STD testing center at the bottom of every page.
Started Nikole Hasler, a Midwestern mom of three, The Midwest Teen Sex Show may not be for everyone (some say it's offensive, and I can see where they're coming from), but it's definitely informative and hilarious. Their website has 25 short films on different subjects, including Syphilis, Abstinence, and The Older Boyfriend.